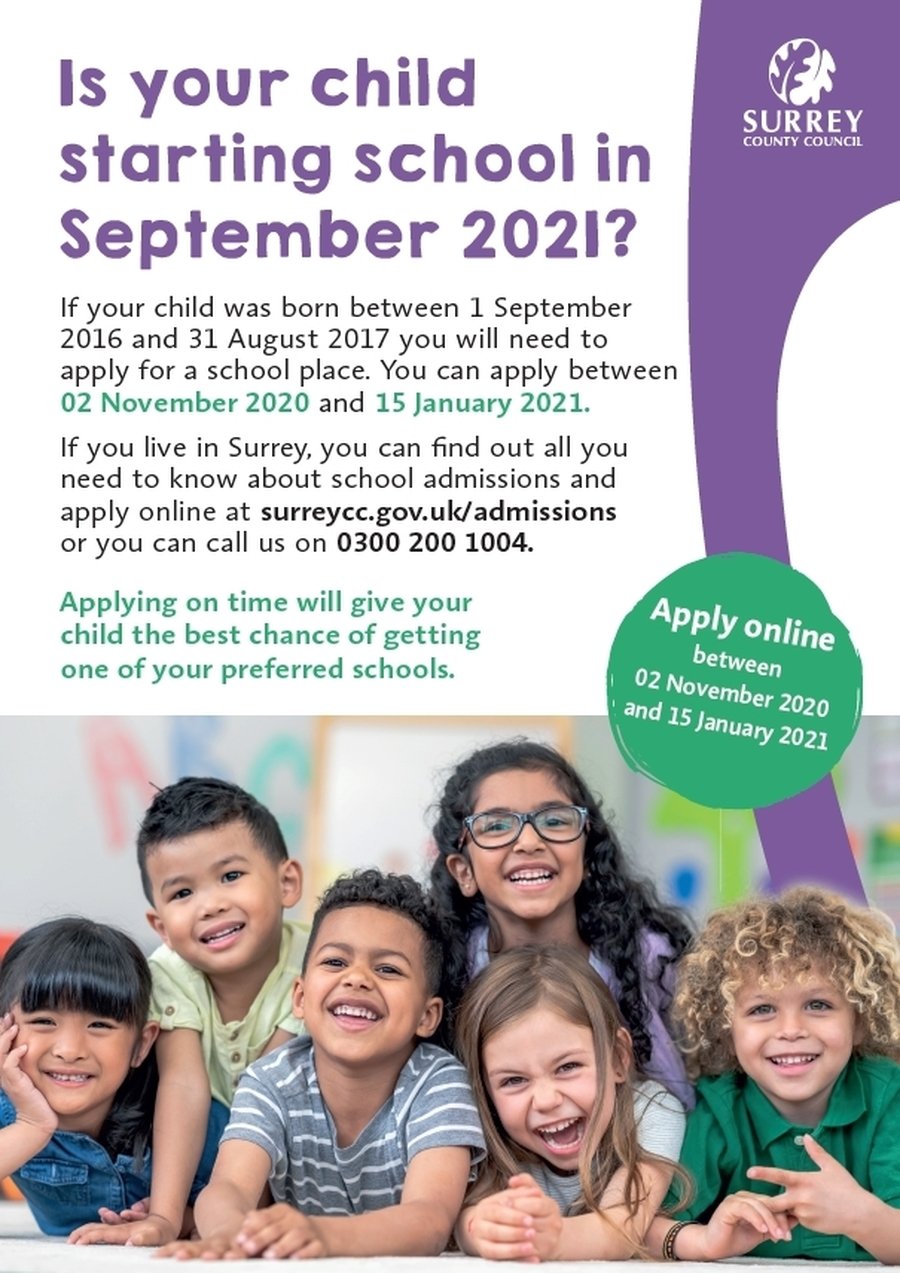 Admissions at Sandfield Primary School
Sandfield is a member of the GEP (Guildford Educatio Partnership. If you require information about the admissions process or wish to apply for a place at our school, either as part of the normal intake or during the school year, please contact the Admissions Team at Surrey County Council on 0300 200 1004, or via email at admissions@surreycc.gov.uk, or visit the Surrey County Council website
Coronovirus Update for Admissions
We would like to reassure our service users that we are doing everything we can to maintain our service levels during the current Covid-19 outbreak. Please help us by visiting our website www.surreycc.gov.uk for up to date information and guidance on admissions and transport. We do not have access to our calls or post and so if you need to contact us please use our generic email address schooladmissions@surreycc.gov.uk. If you need to send us any documents, please scan them and attach them to your email. Any post that is received in the office will not be dealt with until the current restrictions are eased and so this may not be for some weeks. If you have an urgent query please telephone our Surrey Schools and Childcare Service on 0300 200 1004 (9am-5pm).
Primary School Booklet for Admissions 2021
Information Leaflet for Children Starting Primary School in September 2021

Appeals
Surrey County Council is the admissions Authority should you wish to submit an appeal regarding admissions please refer to this guidance: Surrey Schools Appeals Procedures​
TEMPORARY CHANGES TO HOW SCHOOL ADMISSION APPEALS WILL BE CARRIED OUT DURING COVID 19
The Department for Education is issuing new guidance in relation to school admission appeals which will take effect from 24 April 2020. We are still waiting on further guidance and regulations for more detail but we are working to see how we can implement this once received as quickly, fairly and transparently as possible for everyone. Please note, due to schools being closed at present this may have an impact on appeal dates and processes.
September 2020 Entry
Appeals resulting from year of entry or transfer applications for admission in September 2020 will be heard according to the following timetable:
Offers made on 16th April 2020
Applicants to have replied either accepting or declining their offer by 30th April 2020

Appeals lodged by 18th May 2020
Appeals to be heard from May 2020 onwards
Appeals to be heard by 20th July 2020 (40 School days)
The waiting lists for each year group are also held by Surrey County Council. Further details regarding admissions to any Guildford Education Partnership school can be found in the relevant school Admissions policy.
Tours
Due to Covid-19 restriction, tours are not available for parents, therefore we will be organising virtual tours.
Click here for more information
Prospective Parent Comments
'We are greatly impressed by the diversity of Sandfield Primary School. Our daughter has been raised overseas and therefore an educational environment that embraces a wide variety of experiences and backgrounds would suit her very well'
'We visited Sandfield and were very impressed by the standard of teaching'
'This school looks to be of a great quality and location'
'When visiting Sandfield we were impressed by the organisation, multi-culturalism and engagement of the children. We also got a good sense of community and are living close by'